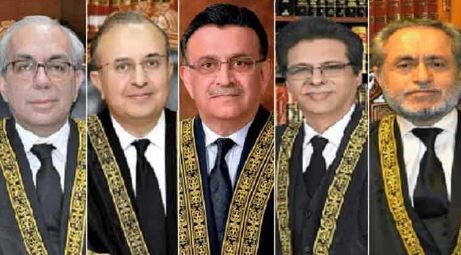 ISLAMABAD (A1TV NEWS)The Supreme Court of Pakistan on Wednesday directed the authorities concerned to hold the general elections in Punjab and Khyber Pakhtunkhwa within 90 days of the dissolution of the assemblies. 
A five-member bench, headed by Chief Justice Umar Ata Bandial and comprising Justice Munib Akhtar, Justice Muhammad Ali Mazhar, Justice Mansoor Ali Shah and Justice Jamal Mandokhail, announced the verdict on the suo motu notice with a split decision of 3-2. Justice Shah and Justice Mandokhail wrote dissenting notes as they raised objections to the very admissibility of the case.
Previously, the case was being heard by the nine-member bench but it split on Monday into a five-judge bench after four judges – Justice Ijazul Ahsan, Justice Syed Mazahar Ali Akbar Naqvi, Justice Yahyah Afridi and Justice Athar Minallah – recused themselves from hearing the case.
The assemblies were dissolved by the Pakistan Tehreek-e-Insaf (PTI) in January to seek fresh elections in the provinces. After the Election Commission of Pakistan (ECP) and governors of both provinces failed to give a date for the elections, President Arif Alvi unilaterally announced that elections would be held in Punjab and KP on April 9 as time was running out.
Key Points of the Ruling
Elections must be held within 90 days of dissolution of assemblies
Two judges raised objections to the very admissibility of the case
President can announce date for elections when assembly is not dissolved by governor
ECP, president have been directed to hold consultation for fresh date for polls in Punjab
President's notification of KP elections declared null and void
KP governor ordered to announce date for elections as he had dissolved the assembly
The apex court declared the president's move to unilaterally announce date for elections in KP null and void, saying the provincial assembly was dissolved by Governor Ghulam Ali Khan and he was responsible for giving the date. However, the top court upheld the president's notification of elections in Punjab as the provincial assembly was dissolved there without the consent of the governor.
If it was impossible to hold elections in Punjab on April 9, the president and the ECP should change the schedule with consultation, ruled the top court. It said the KP governor deviated from his constitutional responsiblity by not annoucing a date for the elections. The apex court directed the governor to announce a date for elections as soon as possible.