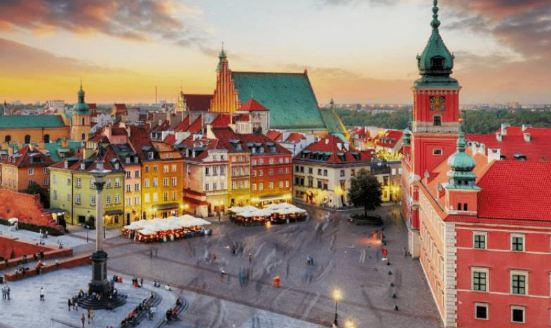 WARSAW – Known for its unique history and stunning geography from the Tatra mountains to the Baltic Sea, Poland has witnessed ups and downs all along the 20th century.
The country is now becoming attraction for international citizens who are finding it easy to relocate to the country while applying online for the visas.
Why Choose Poland
Poland offers a simple entry point for immigrants despite being a developed nation with a thriving economy. Applications for Polish visas are processed quickly with ease as the online portal offers valid and credible information.
How to apply for Polish visa online?
To apply for a visa to Poland, you must first fill the visa form which can be accessed here as registration with E-Konsulat is mandatory. The codal formalities need to be met as desired by the consulate or embassy stationed in your country.
Types of Visa
Airport transit Schengen visa (A-Type)
You should choose this visa type if you plan to pass through an international transit area of a Schengen airport travelling with a passport of one of these states: Afghanistan, Bangladesh, Democratic Republic of Congo, Eritrea, Ethiopia, Ghana, Iran, Iraq, Nigeria, Pakistan, Somalia, Sri Lanka.
Schengen visa (C-Type)
You should choose this visa if you plan to stay in Poland or other Schengen countries for a maximum of 90 days in each 180-day period of time. This means that you are allowed to stay in the Schengen zone legally only if your stay in Schengen countries did not exceed 90 days over the last 180 days. A special calculator on the European Commission's website Na stronie Komisji Europejskiej will help you count how long you can stay in Schengen countries.
National visa (D-Type)
You should choose this visa if you want to stay in Poland for more than 90 days. The validity of a national visa cannot exceed one year. You also need to apply for a national visa if you seek asylum, repatriation, or if you use Polish Card privileges.
Biometric data
When you apply for a visa, you have to provide your biometric data: a photo in the case of a national visa and a photo and fingerprints in the case of a Schengen visa.
If you have already applied for a Schengen visa in the recent 59 months and if you have given your fingerprints, you do not have to give them again as the system will automatically transfer your data.
The following applicants do not have to give their fingerprints:
Children under 12
Persons who are physically unable to give their fingerprints (because they do not have fingers or they suffer from a temporary finger trauma);
Heads of states or governments, members of national governments and their accompanying spouses and members of official delegations if they are invited for official purposes;
Monarchs and high-ranking members of royal families, if they are invited for official purposes.