LATEST
Army to be deployed in Punjab, KP, Balochistan as agitation claims 4 lives in Peshawar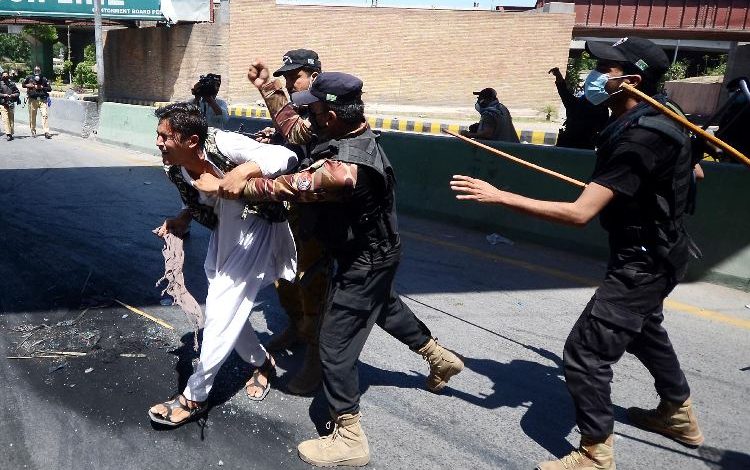 As political unrest simmers in the wake of Pakistan Tehreek-e-Insaf Chairman (PTI) Imran Khan's arrest, Khyber Pakhtunkhwa, Punjab, Balochistan, and Islamabad have called in the army amid violence that claimed four lives in Peshawar, while Sindh is also imposing Section 144 to maintain law and order.
Police have arrested hundreds of supporters of ousted prime minister Imran Khan for violence after his arrest on corruption charges, authorities said, deepening the political crisis in the country.
Four bullet-riddled bodies were received by the emergency room doctors, a spokesperson for Lady Reading Hospital (LHR) told Geo News, while as many as 27 others were under treatment for traumatic injuries related to agitation.
Mobile data services were shut for a second day while Twitter, YouTube and Facebook were disrupted, as security forces tried to restore order after violence killed one person late on Tuesday.
The government said PTI workers had attacked important state buildings and damaged private and public vehicles.
"This can't be tolerated, the law will take its course," Planning Minister Ahsan Iqbal told a news conference. "These violent attacks were not the outcome of any public outpouring, they were planned by the PTI rank and file."
Interior ministry approves military assistance
The Ministry of Interior has approved the Punjab government's request for assistance by sanctioning ten companies of troops, saying: "The army would be working alongside district administration to restore law, order and peace".
The order issued by the Federal Ministry of Interior stated: "Pursuant to the request made by the Home Department Government of Punjab, vide their letter No.SO(IS-II)3-15/2023 (Security) (1) Dated 9 May 2023, the federal government in excise of powers conferred under article 245 of the constitution and Section 4 (3) (ii) of the Anti-Terrorism Act 1997, (to discharge such functions as specified in the said act), is pleased to authorise the deployment of Pakistan Army troops/assets for maintaining law and order situations across the Punjab province in aid of civil power."
The exact number of troops/assets, date and area of deployment will be worked out by the provincial government in consultation with the MO Dte, GHQ, it added.
"The date of the de-requisition of said deployment will be decided subsequently after mutual consultation between both stakeholders," the notification said.
945 arrested for hooliganism in Punjab
In a separate statement, Punjab police said action had been taken against those attacking government property, police force and law enforcement agencies in the province.
"Miscreants involved in violent acts, vandalism, damage to public and private property throughout the province have been arrested," the notification said, adding that they had "seriously injured" more than 130 police officers and law enforcement personnel during the violent operations.
The spokesperson then shared: "Police teams have arrested 945 law breakers and miscreants from across the province."
The Punjab police spokesperson said: "More than 25 vehicles of the police and government agencies were destroyed and burnt."
Protesters had attacked more than 14 government buildings, looting and causing serious damage to government property, he shared.
Furthermore, Punjab Inspector General (IG) Dr Usman Anwar shared that strict legal action is being taken against those who challenge the writ of the state and the law.
He reaffirmed that those who injure citizens, police officers and personnel and damage property "will be brought to justice".
Violence turns deadly in Peshawar
Following the violent protests, at least 30 people were arrested in Peshawar, police confirmed, adding that cases had been registered against the alleged miscreants.
According to the police, the cases are registered on charges of damaging public and private property, vehicles, metro buses and government ambulances.Provisions of arson, stone pelting, vandalism and attacks on the police have also been registered.Identification of rioters and arsonists from CCTV footage and other sources is underway, the police said.
PTI slams Punjab for calling in army
Reacting to the news, PTI Vice Chairman Shah Mehmood Qureshi slammed the federal government and questioned: How did the army become available for deployment in Punjab, when earlier it was said it was "too busy" [to perform election duty]?
"We have serious concerns about threats to the life of chairman Imran Khan. Our leader is in the custody of those who threatened him. Secondly, till yesterday, the army was very busy and was not available for the elections, but what has happened that the army has been deployed in Punjab and KP today? The nation is not stupid," Qureshi tweeted.