LATEST
CM PARVEZ ELAHI, MOONIS ELAHI DISCUSS IMPORTANT ISSUES WITH IMRAN KHAN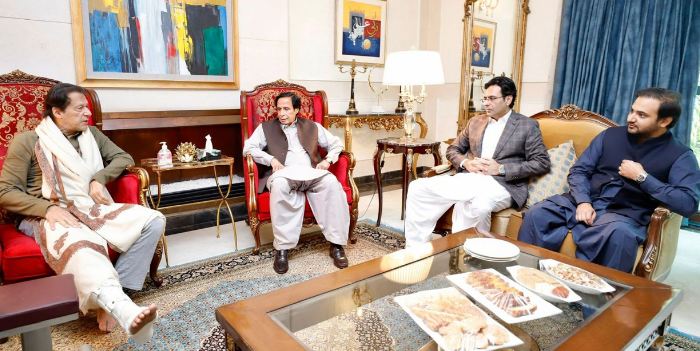 LAHORE(bashir ahmad )Chief Minister Punjab Chaudhry Parvez Elahi, former federal minister Moonis Elahi and Hussain Elahi MNA met with chairman PTI Imran Khan at Zaman Park and enquired about his health.
They also discussed the political situation, administrative matters and rules of procedure of the Punjab assembly. The rules and regulations and technical aspects of the Punjab assembly were also deliberated upon while the CM also informed Imran Khan about relief-oriented programs in the province. In the meeting, the determination to fight every unconstitutional tactic of the opposition was also reiterated.
Chairman PTI Imran Khan stated that a meeting of the provincial parliamentary party has been called for a final consultation about the future of the Punjab assembly. Imran Khan regretted that the cabal of thieves has destroyed the economy.
CM Parvez Elahi said that we are with Imran Khan; we will support every decision of Imran Khan. We fully support whoever we go with; he added and stated that there would be no delay in dissolving the Punjab assembly at the request of Imran Khan. The Punjab assembly is the trust of Imran Khan and this trust has been given to him, he further said. Imran Khan is indispensable for Pakistan.
The opposition which wants to fulfil its desire to bring a no-confidence motion would fail again like before, he remarked. He said that the opposition in Punjab would continue to face defeat in the future as well. The opposition is daydreaming. It could claim about bringing a no-confidence motion while lacking the required number of members. Parvez Elahi said that If the Punjab assembly is in session, the Governor's rule cannot be imposed. It is sincere advice to the opposition that they should study the Rules of Business of the assembly before saying anything.
Moonis Elahi said that everything said by Imran Khan would be done without any hesitation and added that not only the Punjab assembly but their life is also available for Imran Khan. What is happening to PDM is what it sowed, he added. Former federal minister Parvez Khattak and Imran Khan's political advisor Hafiz Farhat Abbas were also present.