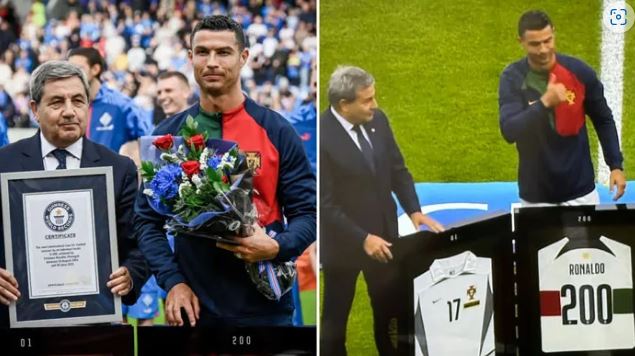 Guinness World Records has bestowed a special recognition upon Cristiano Ronaldo for his extraordinary accomplishment in international football.
The iconic Portuguese footballer, currently playing for Al-Nassr, achieved the historic milestone of earning 200 international caps during Portugal's Euro 2024 Qualifiers match against Iceland on June 20.
In celebration of this remarkable feat, Ronaldo was presented with an official certificate by Guinness World Records, cementing his status as a record holder. Additionally, he was gifted a Portugal jersey adorned with the number "200" on the back, signifying his record-breaking caps.
Despite achieving this momentous record and also holding the title of Portugal's all-time leading scorer, the 38-year-old star has no plans to retire from international football. Ronaldo expressed his unwavering commitment to continue making a significant impact on the international stage, reaffirming his dedication to representing his country.
Under the guidance of new Portugal coach Roberto Martinez, Ronaldo has already showcased his scoring prowess by netting four goals in three games. However, he was unable to find the back of the net in the recent 3-0 victory over Bosnia and Herzegovina.
Cristiano Ronaldo's achievement of reaching 200 international caps has received widespread attention, with Sports Brief reporting on his monumental career milestone. The illustrious footballer, hailed as one of the greatest of all time, surpassed Bader Al-Mutawa of Kuwait earlier this year to solidify his position as the undisputed leader in international appearances.
Representing Portugal in the 2024 UEFA Euro Qualifiers match against Iceland, Ronaldo etched his name in history by becoming the first player ever to reach the remarkable milestone of 200 caps for his national team. This achievement serves as a testament to his enduring talent, dedication, and longevity in the sport.
Ahead of his 200th international appearance, Ronaldo expressed his unwavering commitment to the Portuguese national team. Sports Brief quoted him as stating that he would "never give up" playing for Portugal, emphasising his passion and determination to continue contributing to the success of his country on the international stage.