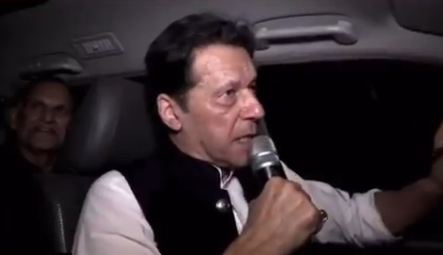 LAHORE (a1tv News) Pakistan Tehreek-e-Insaf (PTI) Chairman Imran Khan on Monday announced a power show at Minar-e-Pakistan on March 19 (Sunday) while he was briefly addressing the participants of an election rally he had kickstarted from his Zaman Park residence in Lahore, with the claims surfacing that Islamabad police had arrived in Lahore to arrest him.
It comes as a schedule for elections in Punjab has been announced. The polls are scheduled to be held on April 30.
The police spokesperson said police personnel were already present in Lahore adding the police would proceed after due consultations. "Police officials will deliberate before taking the move", he added.
The rally began with nearly two hours delay as it was scheduled to kickstart at 2pm. It concluded at Data Darbar where Mr Khan was warmly welcomed by the participants with garlands and flowers showering on his car. The PTI chief responded to their calls by waving his hand inside the car. He also briefly addressed the participants while seated in the car saying the public release of Toshakhana's record brought facts to light. "The whole nation has to fight", he added.

Containers were parked on roads in several areas including Garhi Shahu, Canal Road and Dharampura as preemptive measures by police. The barricades disrupted flow of traffic on the roads.