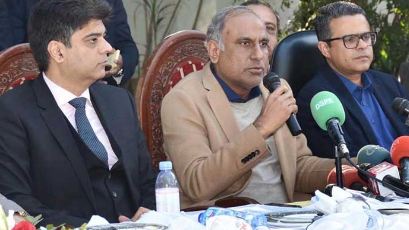 LONDON(a1tv news) Makhdoom Syed Tariq Mahmoodul Hassan, former prime minister Imran Khan's Special Assistant to the Prime Minister (SAPM) on Overseas Pakistanis and Human Development, announced parting ways with the Pakistan Tehreek-e-Insaaf after 5/9 "terror" attacks on army installations by PTI "mobs".
Addressing a press conference in London on Sunday, Hassan said it had become impossible for him to continue in the PTI after the failure of the party leadership on several counts including the May 9 violent protests following the arrest of Khan.
He said: "Today, I am in front of you with a heavy heart. The failure of the incumbent leadership of the PTI to stop the heart-wrenching events of May 9 is not something that can be ignored."
He further said that the May 9 protests have "shaken the nation" and hoped that the public would soon emerge stronger from this crisis.
"I also want to pay tribute to the Pakistan Army, whose jawans have laid their lives for the country," he added, vowing to keep working for overseas Pakistanis.
The former aide said Pakistan's armed forces are the pillars of the country's stability and peace, and attacks on the army installations had "shaken the whole nation".
He said he was under no pressure to leave the PTI and added that he was quitting the PTI to show support and solidarity with the Pakistan armed forces.
Hassan was appointed SAPM on Overseas Pakistanis and Human Development by then-premier Khan in early 2022.
He had replaced Zulfi Bukhari in this role. Previously, Hassan had served as the vice-chairperson of the Punjab Overseas Commission. He has also served as the UK president of the World Congress of Overseas Pakistanis (WCOP).