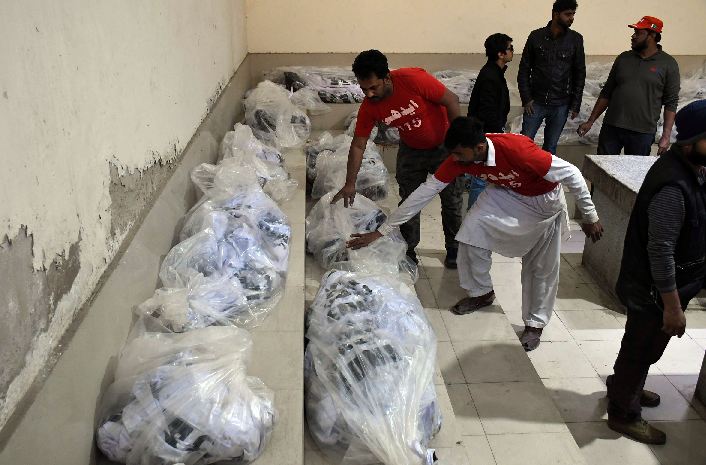 QUETTA (a1tv News) At least 41 passengers were killed and several others injured after a speeding passenger coach plunged into a ravine in Lasbela district of Balochistan on Sunday.
Rescue and local administration officials said the passenger coach was travelling to Karachi from Quetta when it fell into the ravine and caught fire.
The Lasbela Assistant Commissioner (AC) said there were 48 passengers in the coach. He said owing to over-speeding the coach crashed into the pillar of a bridge while taking a U-turn near Lasbela. The vehicle subsequently raced into a ravine and then caught fire.
As many 39 bodies have been recovered from the burned vehicle up till now, while several injured have also been rescued. The fire tenders and rescue teams reached the spot as soon as the incident was reported and extinguished the flames.
The rescue operation is underway. According to officials, the bodies recovered from debris were beyond recognition.
Sindh Chief Minister Syed Murad Ali Shah expressed deep sense of shock over the tragic incident and odered the Karachi authorities to extend cooperation to the Lasbela authorities to facilitate the heirs of victims.
Accoridng to AFP, 41 are so far confirmed dead after their bus crashed into a ravine in southwestern Balochistan province, while at least 10 students died in the boating accident in northwestern Khyber Pakhtunkhwa, officials said.
Up to nine are still missing in the waters, local police said, with a rescue operation underway.
At the remote site of the bus crash, north of the city of Bela in Lasbela district, senior administration official Hamza Anjum said "the dead bodies…are beyond recognition".
Anjum said 40 corpses were retrieved from the wreck alongside three injured, one of which died shortly after. The remaining two survivors were in "serious" condition.
The bus was reportedly carrying a total of 48 passengers when it hit a pillar on the bridge and careened off course earlier on Sunday.
It had been travelling overnight between Balochistan s provincial capital of Quetta and the southern port city of Karachi.
"It is feared that the driver may have fallen asleep," Anjum said, also mentioning the possibility he had been speeding during the long-distance trip.
"We will investigate the causes of the accident," he said, adding that DNA tests would be used to determine the identity of the remains which had been "badly mutilated".