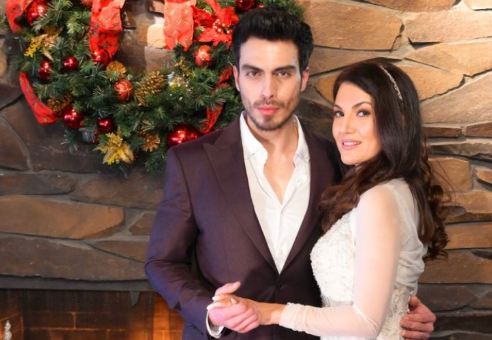 Pakistani journalist and television broadcaster Reham Khan has been the center of attention since she tied the knot for the third time with comedian turned social media influencer, Mirza Bilal.
The match 'made in heaven' has now revealed their "aww-dorable" first meeting and the internet is in love.
Always been in the public eye, Khan's outspoken and straightforward personality has helped her become one of the best news anchors in Pakistan. Although she has had faced scrutiny for her problematic statements and biased opinions, the 49-year-old anchor decided to settle down and enjoy her granduer along with her husband. Khan, mainly due to the nature of her profession, has been quite active on social media, and answered some of the questions asked by the curious audience. The couple sat down to recount how they first met — a situation that sounds straight out of a film.
Bilal revealed that they both met at a train station where Khan was waiting while carrying an expensive handbag worth a whopping 1 million. Khan was attacked by some people who tried to snatch her bag but her 'knight in a shining armor' came through and fought off the robbers. "The rest is history," giggled the couple before moving towards other questions.
Khan captioned the post, "Haters will say it's a made up story."
Reham first tied the knot in 1993 to Ijaz Rehman. The couple divorced in 2005. The journalist later married cricketer-turned-politician Imran Khan in 2014 and the two announced divorce almost a year later.
For those wondering, Mirza Bilal is a 36-year-old television presenter, satirist, and model based in Seattle and New York City. Bilal is a self-proclaimed real-life version of fictional character supermodel, Derek Zoolander, played by Hollywood actor Ben Stiller. Bilal appeared on 4 Man Show, and Dil Pe Mat Le Yaar.