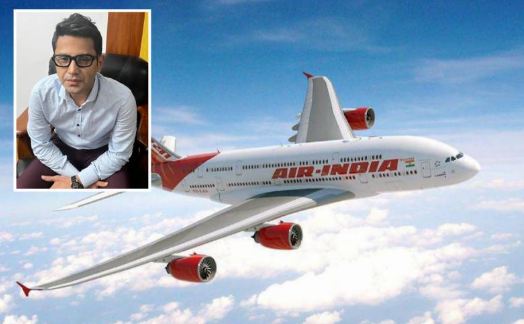 NEW DELHI – Shankar Mishra, a top executive of a US-based banking firm, was detained by Indian police for urinating on an elderly woman passenger on an Air India flight in November last year.
Days after getting terminated as vice president of Wells Fargo, Shankar Mishra is now facing several criminal charges including sexual harassment, obscenity, and insulting the modesty of a woman.
The man, who sparked new debate in a South Asian country, has been sent to judicial custody for two weeks, Indian media reported.
Cops in the Indian capital detained the corporate officials, days after he was on run; however, police were in contact with his family members. To avoid arrest, the culprit first switched off his cell phone, but he was eventually traced through a credit card transaction. He was then shifted to New Delhi for investigation.
Following the notice by Air India's top officials, the cabin crew of the Indian flag carrier has also come under fire for allowing Mishra to leave after the disgraceful incident.
The incident occurred back in November 2022. However, the action comes two months later, as the woman sent a letter to a senior official of the airline. Mishra also flashed himself and urinated on a passenger woman in Air India flight from New York to New Delhi.
The Indian flag carrier reportedly filed a case and recommended putting the man on the no-fly list for the incident.
The woman first informed the cabin crew, but they did not detain the disruptive passenger who, according to the complainant, unzipped his pants and relieved himself. Sharing her ordeal, the woman said her clothes and bag were completely soaked in urine after which the air hostess took her to the toilet where she cleaned herself.
After waiting for nearly half an hour in the lavatory, she was then given the narrow crew seat and mentioned that she changed into a dress provided by crew members.
The Indian aviation regulator has taken notice and sought a report of the incident from the airline.