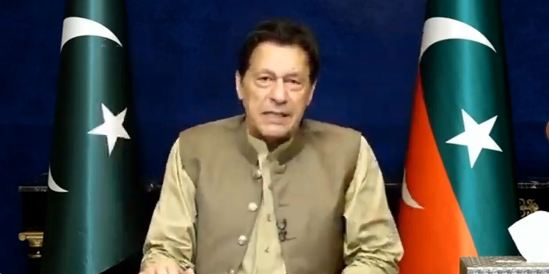 LAHORE(a1tv news) Ousted premier and Pakistan Tehreek-e-Insaf (PTI) Chairman Imran Khan has again announced to hold a grand power show at Lahore's Minar-e-Pakistan on Wednesday.
Addressing his workers virtually, the populist leader said his party will be doing a power show at Minar-i-Pakistan on Wednesday, calling it a referendum on where the masses stand. He said everybody should know where the nation stands and where the ruling alliance members and their handlers stand.
In his address, he mentioned not to address on Saturday night, saying a person should not talk when he is fuming. Lamenting scores of cases and operations in his Lahore residence, Khan asked what his crime was.
PTI chief said whenever he left for any place, a new case is registered. He slammed Sharif-led government for plotting his alleged assassination, saying these people are now hiding behind their handlers.
Recalling previous days, he said elections in Punjab were announced for April 30, ad his party has decided to initiate its election campaign by holding a rally in the provincial capital on March 8.
As we got permission, police contingents placed containers and clamped section 144. How can Section 144 be imposed after the announcement of elections? He asked.