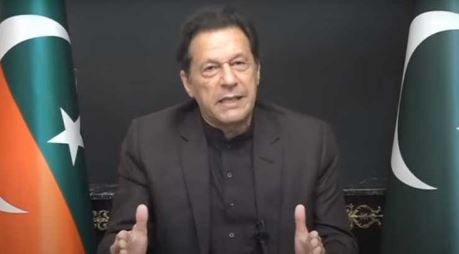 LAHORE (A1TV NEWS)Pakistan Tehreek-e-Insaf (PTI) chairman and former prime minister Imran Khan on Friday announced that his party would launch their 'Jail Bharo Tehreek' on Wednesday, Feb 22, and said the interim governments would become unconstitutional if they failed to hold elections in 90 days.
Addressing workers through video link on Friday, he said that after 90 days, the caretaker governments would be subject to the constitution violation clause.
The former prime minister said wars and earthquakes don't destroy a country but injustice does. He said the human rights were being violated during the past 10 months by targeting the political opponents, adding that party leaders Shahbaz Gill and Azam Swati had been subjected to torture in the jail.
"Whatever was done with former federal minister Azam Swati shocked the entire nation," he said and added an attempt was made to silence Fawad Chaudhary and Sheikh Rashid by arresting them.
Imran Khan went on to say that cases were made against Arshad Sharif and then he was threatened, adding that the senior journalist was a mujahid who was standing on the right side but then he was martyred in Kenya.
The PTI chairman further said police didn't even register an FIR of attempt on his life, adding that the JIT was deliberately sabotaged which revealed that the three people he was naming were involved in the assassination attempt.
Mr Khan also announced that his party would launch their 'Jail Bharo Tehreek' from Wednesday, Feb 22, adding that they had completed their preparations and would start movement from Lahore before expanding it to other major cities of the country and fill the jails of the country to the maximum.
"We are launching the movement for the public to overcome their fear of going to jail," he said.