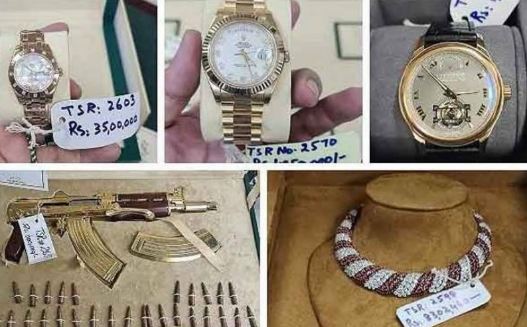 ISLAMABAD(A1TV NEWS)For the first time in the history of Pakistan, the federal government on Sunday made the record of Toshakhana gifts since 2002 public.
The development comes days after Defence Minister Khawaja Asif said the federal government had given not to declassify the data of the state repository that stores gifts received by public officeholders from other governments and foreign dignitaries.
The 446-page document contains record of the period from 2002 to 2023. It reveals the list of gifts received by presidents, prime ministers and federal ministers. During this year 2023, the current coalition government received 59 gifts from different countries.
According to the records released by the government, 224 gifts were received in 2022, 116 gifts in 2021, 175 gifts in 2018 and 91 gifts in 2014 while 177 gifts were received by government officials in 2015.
The document carries records of gifts retained by later former president Gen (retd) Parvez Musharraf, former prime ministers Shaukat Aziz, Yusuf Raza Gilani, Raja Parvez Ashraf, Nawaz Sharif and Imran Khan.
The record shows, Imran Khan bought a diamond-gold watch worth Rs85 million, a pair of cufflinks worth Rs5.67 million, a pen worth Rs1.5 million and a ring worth Rs8.7 million. The former premier retained all the gifts by paying around Rs20 million.
Besides that, the PTI chief retained another watch worth Rs3.88 million by paying Rs754,000.