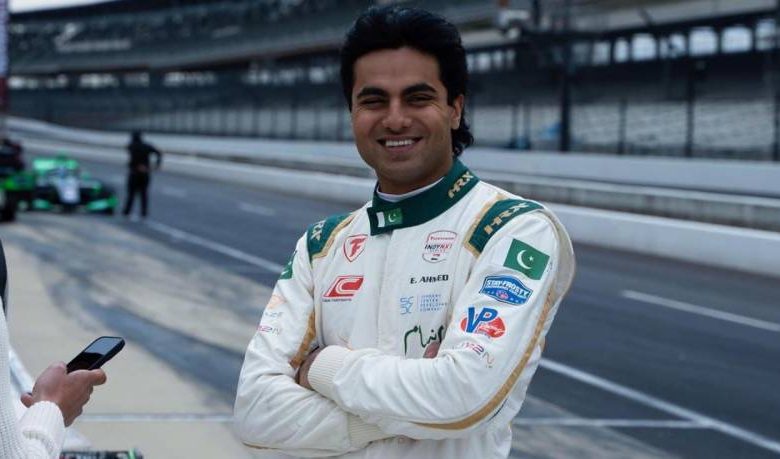 There's no limit for Pakistanis when it comes to succeeding. With yet another Pakistani individual making the nation proud, the bar is rising higher and higher for the coming generations.
Enaam Ahmed, a British-born Pakistani Formula racer, is taking the internet by storm with his winning streak now beating world-class racers including Formula One driver Hamilton and Max Verstappen. Ahmed recently set the record becoming the third-fastest time during the morning session on the 2.4-mile road course at the prestigious Indianapolis Motor Speedway.
The circuit comprises of 14 corners and hosted some of the world's most talented racing drivers. The test took place in preparation for Round 2 of the Firestone Indy NXT Championship. Starting with a chilling morning leading to an hour's delay, the Speedway witnessed 20 brilliant drivers all ready and set to go.
Ahmed competed against several experienced drivers and still made out the third fastest time of 1:14.86. The fastest time of 1:14.62 was set by Hunter McElrea of New Zealand. Not only that, Ahmed became the only Pakistani to win a World Championship in Karting.
The 23-year-old rising star also broke Ayrton Senna's record by acing 13 races in a single season. He became the first high-level Formula Championship champion in Pakistan's history, winning the British Formula 3 Championship, and more.
On his professional front, US-based Pakistani professionals are encouraging Ahmed to participate in the Indianapolis 500, the greatest spectacle in racing in 2024. His upcoming race will take place at Birmingham, Alabama's Barber Motorsports Park on April 30.
Credited as the most successful Asian racing driver in the history of Formula Motorsport, Ahmed was born in London to Pakistani parents. He is the only Pakistani to secure the World Champion in Karting, beating the records of Formula One drivers Lewis Hamilton and Max Verstappen. Ahmed has been winning championships and breaking records from the age of 14.