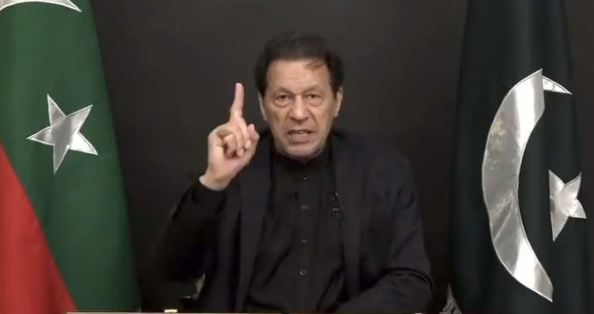 LAHORE – Ousted Pakistani prime minister Imran Khan said on Saturday it's time for Prime Minister Shehbaz Sharif to get a trust vote in the National Assembly (NA).
The defiant politician shot the last remaining arrows in his quiver, days after Punjab Chief Minister Parvez Elahi secured a vote of confidence at a late-night session of the provincial assembly.
Khan, who is playing his all cards to force the federal government to hold early elections, said that Shehbaz Sharif had tested him and now the PTI would turn the tables on Sharif.
Khan responded in affirmative when asked about his final move to send the PML-N government packing from the centre. "Absolutely, we will test Shehbaz," Khan said, mentioning that his party would discuss the move at a meeting tomorrow.
The PTI chief threatened to return to the NA as MQM-Pakistan, a key ally of the coalition government, had threatened to part ways with the centre over the delimitation issue. Khan announced his next move as cash strapped Pakistan was facing the worst economic crisis in recent years.
Meanwhile, PML-N leader and Special Assistant to PM Attaullah Tarar said Shehbaz Sharif will seek a vote of confidence from the National Assembly if President Alvi orders. He opined that the premier had the mandatory number to secure a vote of confidence from the National Assembly.