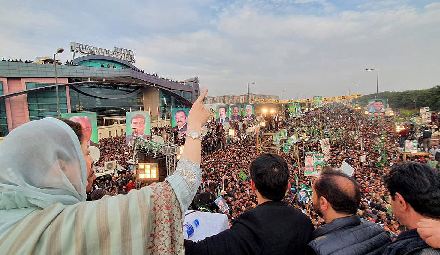 LAHORE (a1tv News)The senior vice president of Pakistan Muslim League Nawaz (PML-N), Maryam Nawaz, landed in Lahore on Saturday afternoon.  
Starting off with conveying the felicitations by PML-N supremo Nawaz Sharif during her first address to the PML-N workers after landing, she said Mr Sharif was still the most popular leader in the country and he was cognisant of the problems of the people. "He will return to the country soon," she added.
Commenting on the country's economy, she said: "We have to support Finance Minister Ishaq Dar to steer the country out of economic crisis and it will take time to do so. We will not sit until we succeed in changing the course of nation's fate."
She claimed that the PML-N would secure majority in Punjab and the party workers were not hesitant to contest elections. "Nawaz Sharif and Shehbaz Sharif did not play vengeance game with you [Imran Khan]", she added. 
Earlier, thousands of the PML-N workers and supporters, led by party leaders, thronged the Allama Iqbal International Airport to welcome the party leader who had recently been elevated to the position of senior vice president.
Taking to Twitter, she wrote, "Long live Pakistan". 
On the other hand, while speaking to media outside the airport, she said she had come back to Pakistan after three and a half months, and during this time, she got the opportunity to formulate a political strategy under the guidance of her father and PML-N supremo Nawaz Sharif. "Mr Sharif will return soon," she said.
Sharing her vision about the PML-N, she said she wanted to strengthen the party through youth's support and anyone parting ways with the party would not make a difference. No one could question Shahid Khaqan Abbasi's attachment to the party, she said. "I am not happy to see any [political opponent] in the jail but whatever the PTI goes through will be tantamount to karma," she said.
She said the previous government brought the country's progress to a standstill and the PTI was responsible for economic woes the country was facing. "We have to steer the country out of crisis and I shall try my best to fulfill my duty," she reiterated.
Maryam Nawaz reached Lahore by PIA flight 264 from Dubai after spending three and a half months in London. She had departed from London on Thursday and spent a day in Dubai. She was bid farewell from Avenfield by her father Nawaz Sharif and party members.
The PML-N leaders had finalised preparations for Maryam's reception and it had been agreed that she would speak to the PML-N supporters while perched atop a container before departing for Jati Umra. There won't be a rally, a1tv News reported. 
Maryam Nawaz had departed for London on Oct 6, 2022.
"Welcoming the party senior vice president will be a rehearsal for Nawaz Sharif's homecoming," said Khawaja Salman Rafique.