LATEST
PM Shehbaz sees Daily Mail's report as Imran Khan's conspiracy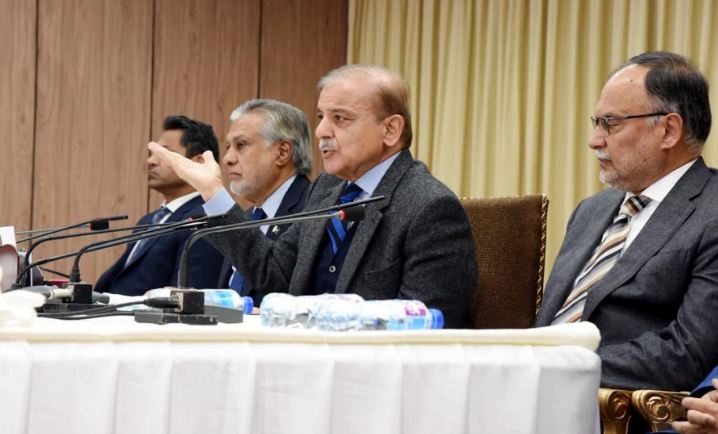 ISLAMABAD (a1tv News) Prime Minister Shehbaz Sharif on Monday while terming Daily Mail report – an article it published on July 4, 2019, in which Daily Mail accused the premier of "stealing British foreign aid money" – as Imran Khan's conspiracy said that it is the deposed premier's habit to run defamation campaigns against his political rivals.

Addressing a press conference along with cabinet members , PM said that the previous government left no stone unturned to defame the sharif family, adding that Justice Shoukat Aziz's statements over PML-N supremo Nawaz Sharif's cases were evidence of Imran's 'worst political victimization' against them.
"It was heartless approach by Imran Khan and Mirza Shahzad Akbar. They thought that it would damage Pakistan's reputation but transparent investigation failed their plan," he added.

The premier added that from 2008-2018, the United Kingdom s Department for International Development (DFID) provided 600 million pounds to Pakistan for flood affectees, adding that that amount was spent in a transparent manner.

"It was written in the article that Shahzad Akbar — ex-PM Khan s aide on accountability — had arranged tours for Daily Mail journalist David Rose, where he showed them the condition of convicts residing in jails," said PM Shehbaz.

"When the article was published in 2019, PTI s ministers were upbeat about the publication of the article and started levelling baseless allegations against the Sharif family," he added.
Taking a jibe at the PTI chief, Shehbaz said Panama Papers case was lodged against Nawaz Sharif but he was handed down punishment in iqama, adding that his name wasmentioned in the Panama Papers hence the iqama issue was added to the case.
Shehbaz Sharif said PTI's four years tenure was a period of political victimization.

He said PML-N led coalition has kept national interest above political interest and saved the country from default.

The Prime Minister said we tried to give subsidy to poor people and 1800 billion rupee Kissan Package is an example of that.

He added that the government is strenuously working to rehabilitate the flood affected people which is a big challenge.

He rejected any threats of country's default.
Pakistan's default narrative part of campaign: Ishaq Dar
Minister of Finance Ishaq Dar while again categorically ruling out Pakistan's going bankrupt said that spreading Pakistan's default narrative is part of campaign.

Addressing a press conference in Islamabad on Monday, he said that Pakistan's rating in the world is being damaged by talking about default.

The minister said that the country should be kept first, adding that the challenges are being managed.

Hitting out at Pakistan Tehreek-e-Insaf (PTI) chairman, Dar declared Imran Khan responsible for country's current situation and said that the former PM is now defaming the country by spreading false propaganda of Pakistan's default.

Alleging the previous government of laying land mines, the finance minister said that Imran Khan tried to prove Pakistan as a corrupt nation, adding that the inflation reached historic high during the PTI government's tenure and the rupee depreciated.
Daily Mail apologises to PM Shehbaz over 'false accusations'
Earlier on December 8, British tabloid "Daily Mail" on Thursday has apologized to Prime Minister Shehbaz Sharif for accusing him of corruption in flood funds in an article published in 2019.

The counsels of the tabloid informed the court that the publication had withdrawn all allegations against the Prime Minister.

In a clarification, the publication wrote: "In an article concerning Mr Shahbaz Sharif entitled 'Did the family of Pakistani politician who has become the poster boy for British overseas aid STEAL funds meant for earthquake victims' published on 14 July 2019 we reported on an investigation by Pakistan's National Accountability Bureau into Mr Sharif and suggested that the money under investigation included a not insubstantial sum of British public money that had been paid to the Punjab province in DFID grant aid".