LATEST
Police drive PTI leaders, workers to prisons after they volunteer arrest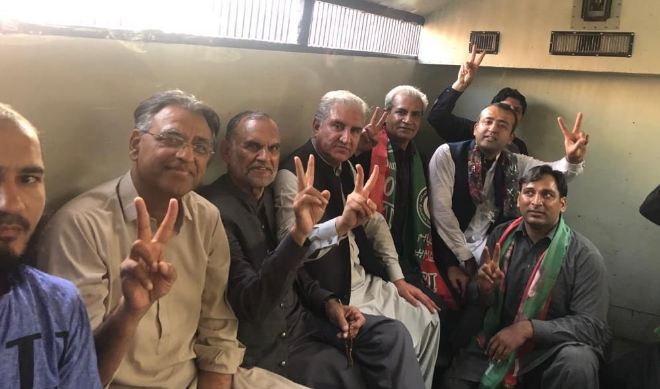 LAHORE (A1TV NEWS) The Lahore police teams on Wednesday drove senior Pakistan Tehreek-e-Insaf (PTI) leaders and a number of workers to jails minutes after they courted arrest while honouring the call of party supremo Imran Khan. 
PTI leader Shah Mahmood Qureshi was the first to have courted arrest as part of party's "Jail Bharo" movement. Reports said police put the PTI vice chairman in the prison van. Later, other leaders including Zubair Niazi, Asad Umar and Azam Swati sat in the prison van by themselves. Omar Sarfraz Cheema and others also surrendered themselves while Hammad Azhar sat atop a vehicle ostensibly to get media glare.
Police said they were carrying the PTI leaders and workers to the Kot Lakhpat and Camp jails but they could not tell whether those arrested would be put behind the bars. Earlier, it was stated that no prison in Lahore had the capacity to keep a number of political workers.
Taking to Twitter, PTI leader Fawad Chaudhry said many PTI leaders and workers including Shah Mahmood Qureshi, Asad Umar and Ejaz Chaudhry had surrendered themselves for the arrest. He said the sea of people had created panic among policemen.
Fawad lauded the PTI workers for their response, saying the movement would move forward to Peshawar tomorrow (Thursday).

Mr Qureshi, while speaking from inside the police van, said: "I am 'happy and satisfied', and I urge the masses to break the shackles of fear and venture out."