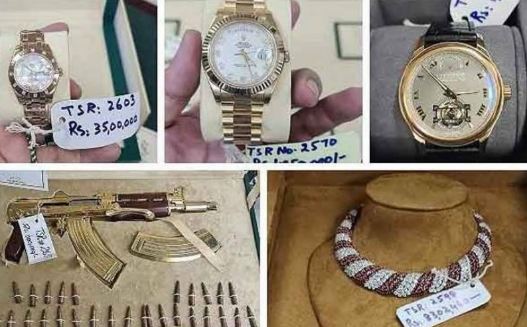 LAHORE(a1tv news)A group of clerics from renowned seminary in Punjab capital has declared purchasing of gifts from Toshakhana, a state depositary where gifts received by government officials from foreign countries and dignitaries are kept, at a lower price forbidden
Jamian Naeemia's Mufti Raghib Hussain Naeemi, Mufti Imran Hanfi, Mufti Nadeem Qamar, and Mufti Arif Hussain have issued a decree, stating that existing Toshakhan law for retaining of gifts are un-Islamic.
As per the law, the Cabinet Division get the value of the gifts assessed from FBR official and the private appraisers.
"Gifts upto a value of Rs. 30,000/-(Rupees thirty thousand only) may be retained free of cost by the recipient. Gifts valued above Rs.30,000/- may be allowed to be retained by the recipient on payment of 50% of the value exceeding the basic exemption of Rs.30,000/-. This exemption shall however not be available in case of antiques and gifts of intrinsic historical value. All such gifts shall be properly catalogued and displayed at the prominent buildings owned by the Government. Different gift articles given by a single dignitary to a functionary at one occasion will be treated as single gift for the purpose of valuation," reads the Toshakhana law.
The decree also said the Holy Prophet (PBUH) had warned against keeping a gift given to the public office holder. It said the gifts should be spent on public welfare. Citing a Hadith, it said the gifts should be deposited in state treasury, adding that purchasing the items from Toshakhana at a lower prices is violation of the Islamic teachings.
The scholars have urged the Supreme Court of Pakistan to play its role in amendment to the existing law for retaining gifts from the Toshakhana.
The decree was issued a day after the federal government releases Toshakhana record for period between 2002 to 2023. It has exposed those several government officials and former rulers.