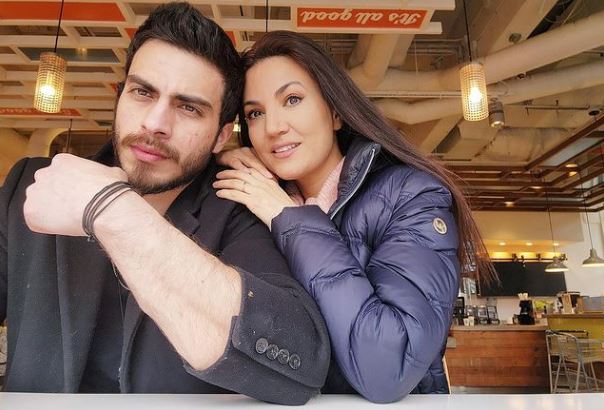 Reham Khan, who recently celebrated her 50th birthday, expressed her gratitude for the blessings she has received this year, especially for the love that was absent in her life last year.
The British-Pakistani journalist, who tied the knot with Mirza Bilal earlier this year, encouraged her fans to remain hopeful, keep praying, and have faith, as their world can transform completely in just a year.
On Tuesday, Reham shared a photo on Instagram featuring herself, her husband, and a vase filled with flowers. Along with the picture, she penned a note urging her followers to be patient during difficult times. "If you have lost hope, if you are feeling down today, I pray not only that you find love and happiness, but also let me tell you that your world can change from one birthday to the next," she wrote.
In another post, Reham blew out her birthday candles and wrote, "I've never counted the years, but rather counted the blessings. I am proud of every year of my life and make no attempt at hiding my age. Growing older is great. It makes one more interesting, hopefully more intelligent too, but above all, it means I've seen my children and my nephews grow up in front of me."
She continued to count her blessings and shared, "I've travelled the world, met amazing people, admired human-made masterpieces of art, and most importantly, laughed more than I've cried. This was the last cake of my birthday, hoping for more coffee and cake tomorrow."
In conclusion, Reham celebrated her life, calling it "great" so far, and stated that she's just getting started. She encouraged women to keep their spirits up, smile, and wear their favourite lipstick to face any challenges.
Reham first tied the knot in 1993 to Ijaz Rehman. The couple divorced in 2005. The journalist later married cricketer-turned-politician Imran Khan in 2014 and the two announced divorce almost a year later.
For those wondering, Mirza Bilal is a 36-year-old television presenter, satirist, and model based in Seattle and New York City. Bilal is a self-proclaimed real-life version of the fictional character supermodel, Derek Zoolander, played by Hollywood actor Ben Stiller. Bilal appeared on the 4 Man Show and Dil Pe Mat Le Yaar.