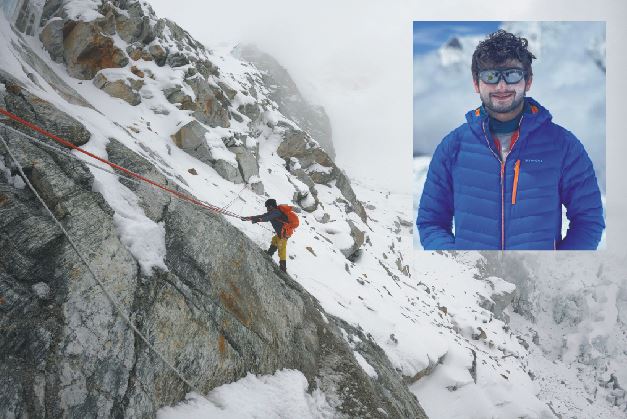 ISLAMABAD(a1tv news) Pakistan's Shehroze Kashif has successfully summited the 10th highest peak in the world, Annapurna, Nepal which stands at 8,091 metersat 6:31 am PST today (17th April 2023). At 20, he is now the youngest person in the world to summit 11 peaks above 8
It is a remarkable achievement that barely after 6 months of his spinal surgery he is standing tall on the 10th highest mountain in the world.
Earlier in March when Shehroze left Lahore for this expedition, he had announced his ambitious goal of becoming the world's youngest climber to summit all 14 peaks above 8,000 meters. After Annapurna, he has summited 11 peaks and has only 3 left (Dhaulagiri, Shishipangma and Choyou) to become the youngest climber to summit all 14 x 8000m.
Mr. Kashif Salman, Shehroze's father who is his staunch supporter said, "I always say Shehroze is a gifted human and Allah has blessed him with powers so he can do extraordinary things."
Expressing his feelings Shehroze's father said, "At one point it seemed that his carrier was over but how he overcame the obstacles and challenges he faced after being with a dislocated backbone is amazing. It is a clear message that it's not over until it's over."
Earlier, Shehroze's mother, who was also present at the airport to see him off and was visibly emotional said that when I asked during his K2 Summit to come back and asked, you don't miss home? he used to show me the mountains and would say, this is my home mom". She wished the best to her son and said he will make Pakistan proud.
The 14 peaks, also known as the Eight-thousanders, are a collection of mountains rising above 8,000 metres (26,247 feet). These mountains are regarded as the most difficult and dangerous in the world, with only a few climbers having successfully summited all of them.
Shehroze's perseverance, passion, and skill have made him an inspiration to young mountaineers all over the world. He believes that anyone, no matter how big or small, can achieve their dreams with hard work and dedication.
Sharing his experience about his challenge, the ace climber sai "I am determined to achieve this goal and bring honour to my country. I want to inspire young people to pursue their dreams and passions, no matter how difficult they may appear."
Shehroze's world-record ascent will not only bring international attention to Pakistan but will also highlight the country's natural beauty and diverse landscapes. His accomplishment will inspire a new generation of mountaineers and adventurers to climb the world's tallest peaks.