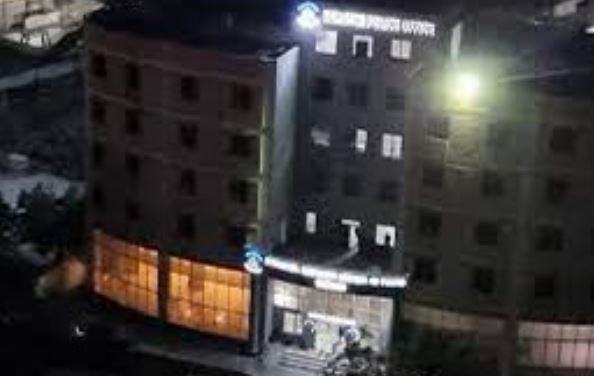 KARACHI (A1TV NEWS)Law-enforcement agencies have killed at least three terrorists before clearing the Karachi police head office located on main Sharea Faisal, which came under attack on Friday night.
Security forces retook the building after several hours and killed three militants, a government spokesman said. Police commandoes and a bomb disposal squad entered the building and a security sweep was under way.
Four people — including two police officers, one Rangers personnel and one civilian staffer — were martyred, and 18 people were wounded.
A bomb explosion was also heard which resulted in a fire. On the other hand, Sindh Inspector General of Police (IGP) said that the police were encountering the terrorists, present at the fourth floor of the building, which resulted in the death of two terrorists. However, there are still more terrorists present inside the building.
Police snipers took up positions near the station and all lights in the area were switched off.
Sources said the firing near the police head office at Shahrah-e-Faisal sent shockwaves across the city, with fear spreading among the resident of the area. They said the attackers threw grenades from behind the police station at a time when security personnel were still present in the office.
Meanwhile, the investigations started to find out the number of attackers and the motive behind the attack.
A spokesperson for the Sindh Rangers said initial estimates suggest there are eight to ten "armed terrorists". In a separate statement, the spokesperson said a brigadier of the counter-terrorism force is leading the operation, adding that Rangers were working on clearing the fourth floor.
Sindh CM Murad Ali Shah
Meanwhile, Sindh Chief Minister took the notice of the attack and said he was overseeing the investigations himself and said the attack on the police chief's office was "unacceptable". He also ordered the regional DIGs to arrive at the police head office with police forces.
"I want the perpetrators behind the attack on the additional IGs office to be arrested," he said, adding that an attack on the KPO was "not acceptable" at any cost.
The chief minister also sought a report from the officer concerned and said that he was personally monitoring the situation.
Three floors of the five-storey building have been cleared so far, said Sindh CM, adding two floors and the rooftop remained. He said it was too early to confirm casualties as reports were still coming in.
Sindh Information Minister Sharjeel Inam Memon said the terrorists would have to pay for their bloody attack at the police station and added Sindh CM had taken the notice of the attack.
Rana Sanaullah
Following the attack,Interior Minister Rana Sanaullah said he had a telephonic conversation with the Sindh IGP and chief secretary. He added the terrorists were facing resistance on the third floor of the buildng. The minister emphasized that a new strategy was needed for fighting the scourge of terrorism.
The minister said that the federal government was in touch with the Sindh Police and "all assistance will be provided."