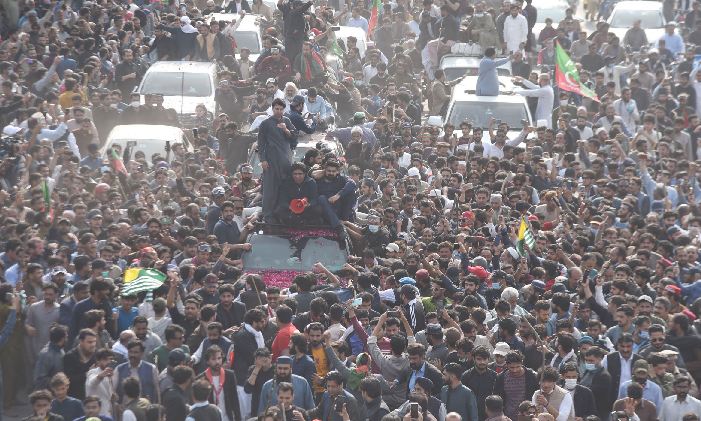 ISLAMABAD (a1tv News)Pakistan Tehreek-e-Insaf chief Imran Khan began his journey back home in Lahore after staying outside the judicial complex in the capital city for some time for appearing in a court in the Toshakhana case. 
PTI's Vice Chairman Shah Mahmood Qureshi claimed that the whole process of attendance was completed and Imran Khan was allowed to return after his attendance. A senior police officer, however, informed the court that the attendance sheet of Imran Khan had been misplaced. The judge reprimanded him and said it was part of the court record and must be recovered. The SP said he would find it out in a while. The court later adjourned the case till March 30 and said Imran Khan would appear in court. The court cancelled the former premier's arrest warrants till next hearing when he would be indicted.
Earlier, after the PTI chief reached Islamabad on Saturday to appear before Additional District and Sessions Judge Zafar Iqbal, he was allowed to leave the premises after marking his attendance in his car outside the judicial complex. The court noted that the judiciary wanted peace and not conflict while sending attendance papers at the gate to mark the attendance of Imran Khan.
In an audio released to the media, the PTI chief can be heard saying he had been waiting to enter the court for 15 minutes but he was not allowed in.  
Meanwhile, Shibli Faraz was released by police after he was arrested for a short period. PTI leaders alleged that other leaders also had been taken into custody and they had been thrashed by police. The judge, however, asked police to let Shibli Faraz in. He asked a police officer to let there be peace. The SP told the judge that he would return after having attendance of Imran Khan,
Shibli Faraz appeared in the court for a while and sobbed out his ordeal, saying he was a heart patient. He said he had been manhandled by police.  
Moments earlier, police and hundreds of Pakistan Tehreek-e-Insaf workers came face to face as Imran Khan reached Islamabad to appear in a court in the Toshakhana case. Reports of clashes and police baton-charge of charged-up workers near the judicial complex emerged and personnel of Frontier Constabulary also stepped in to control the situation.
The Islamabad IGP alleged that a police post had been set ablaze and officials attacked despite request to the PTI chief to enter the judicial complex premises. A tense situation prevails in the capital city.
The police claimed that the PTI workers were pelting stones on the security personnel.