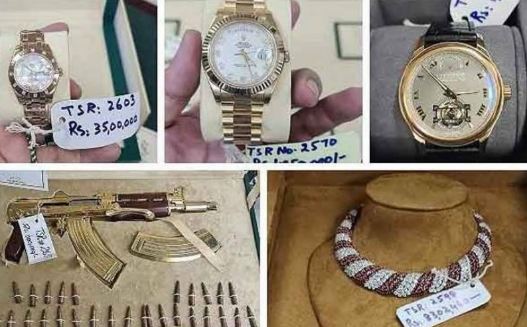 ISLAMABAD(a1tv news) The federal cabinet has unveiled a new Toshakhana (gift repository) policy banning all state officials, including politicians and military, from retaining gifts by foreign dignitaries worth more than $300.
The Cabinet Division released the new policy titled "Toshakhana Procedure for the Acceptance and Disposal of Gifts, 2023" on its website alongside the Toshakhana records.
From now on, the prime minister, president, cabinet members, judges, military officers and others will not be able to retain gifts, including cars, watches, jewellery and cash, among other valuables worth millions.
"Gift(s) valuing upto USD 300 shall be allowed to be retained by the recipient after due payments as per its assessed market value. The gift(s) exceeding this monetory limit shall straightaway become State/Toshakhana property to be deposited and disposed of according to Toshakhana Procedure. This exemption shall however not be available in case of antiques and gifts of intrinsic historical value. All such gifts shall be properly catalogued and displayed at prominent buildings owned by the Government," reads the policy.
"Cabinet Division will get the value of the gifts assessed from Government Sector experts in FBR. Cabinet Division will also get the value of gifts assessed by the Private Appraisers borne on its approved panel. The weapon(s) shall be assessed by Private Appraisers on the panel and by expert of Pakistan Ordinance Factories Wah instead of FBR."
As per the new policy, all cash gifts will be deposited into the national treasury while all gold and silver coins will be deposited into the State Bank of Pakistan, while gifted vehicles will be given to the Central Pool of Cars.
All officials, except the prime minister and the president, will also be prohibited from accepting gifts for their family members.
It further suggests strict punitive action against individual recipients if they fail to adhere to the new policy and all officials will be bound to share details of the gifts they receive with the Cabinet Division.