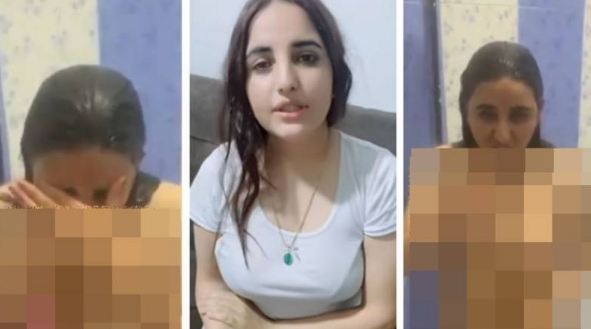 The alleged obscene videos of controversial queen Hareem Shah are making rounds all over social media. There are videos circulating online that allegedly show Shah engaged in lewd acts, leaked by an unidentified user.
The TikToker continues to become the talk of the town for all the wrong reasons and this time she fell victim to a data breach. However, it has not been confirmed if the person in the videos is indeed the Tiktok star.
With the latest leaks, social media users were left speculating about the person who shared these clips.
Besides the leaks, Shah has an enthralling Instagram feed and social media presence that keeps her fans hooked. With over a million followers on Instagram, she is recognized as a leading influencer in the digital space, thanks to her fashion sense, witty personality, and engaging content.
In 2021, Shah made headlines when she announced her marriage to Bilal Shah. However, unlike other celebrities, she chose to keep the details of her husband under wraps, leaving her fans curious about the identity of her partner. Despite the lack of information, her followers showered her with congratulatory messages and good wishes for her new journey in life.
The social media sensation, Shah, has been in the limelight for all the wrong reasons lately. She garnered a lot of attention after flaunting bundles of foreign currency notes in a viral video and even recorded herself unpacking liquor with her husband. Her controversial behaviour did not go unnoticed and the Sindh High Court directed her to appear before the Federal Investigation Agency (FIA) by April 18th in connection with an alleged money laundering probe. Furthermore, Shah and her husband were arrested in Turkey in connection with a gold and currency smuggling case, which added to her legal troubles. It is evident that her recent actions have landed her in hot water, and she had to deal with the legal consequences of her actions.