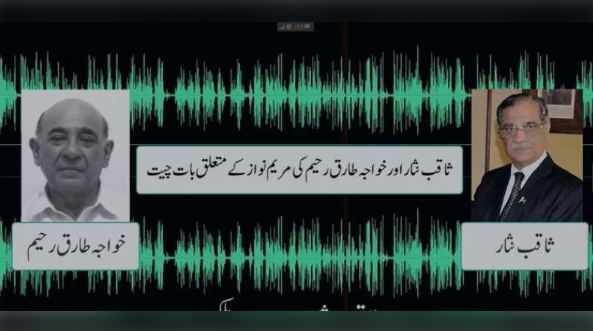 ISLAMABAD(a1tv news) An alleged audio of former chief justice Saqib Nisar has surfaced online, becoming the newest edition of the audio leaks saga involving top politicians and officials.
The brief audio leak allegedly involved a discussion between former CJP and former Punjab governor Khawaja Tariq Rahim. The two leaders can be heard discussing a plan to silence PML-N chief organizer Maryam Nawaz, who according to them talks too much.
Referring to the PML-N leader, a voice believed to be of Tariq Rahim said "She [Maryam] should be given a befitting reply, due to the way she talks…She must be sorted outside. This woman talks too much."
The second voice, allegedly of a former top judge, said: "Do you know what I think? Borrowing words from Tarar sahib, he said if someone barks; try to stay away from him.
Rahim then said that's right. You have already given your reply on ARY News. Nisar continued saying "Alhamdulillah, I have the potential to bear all this…I don't want to get perplexed or depressed. He further mentioned giving something to another person for a 'bang'.
"Just let me know. I will do whatever you say," Rahim said and the audio ended.