LATEST
Lt Gen among three Army officers sacked over May 9 incidents, says DG ISPR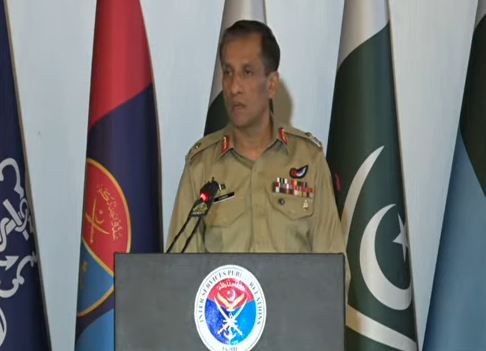 RAWALPINDI – Pakistan Army's spokesperson Major General Ahmed Sharif said on Monday three high rank officials, including a lieutenant general, was removed from their service for failing to protect military installations and garrisons during May 9 protests.
Addressing a press conference, the director general of Inter Services Public Relations (ISPR) said the army has completed its accountability process after the May 9 mayhem, adding that disciplinary action was taken against 15 officers, including three major generals and seven brigadiers.
On May 9, PTI protesters attacked military installations, including Lahore Corps Commander's residence, and several memorials, besides damaging public properties after PTI Chairman Imran Khan was arrested in the Al-Qadir Trust case.
At the start of his presser, the military's spokesperson termed the May 9 incident extremely disappointing, condemnable and a black chapter in the history of Pakistan. The horrific events have proven that a handful of miscreants did what the enemies could not do in 76 years. He called the incident a "conspiracy against Pakistan".
The investigations, he said, showed the May 9 events were being planned for the past several months, adding that people were provoked against the army under this plan. He said that authorities had obtained evidence against them.
The DG ISPR said that the heirs of martyrs and veterans are angry and upset over the events of May 9. He said Pakistan Army troops are sacrificing their lives in ongoing operations against terrorists but on the other hand, filthy propaganda was being spread on the basis of a false narrative for nefarious political objectives.
Civilian's Trial in Military Courts
The army's spokesperson said the military courts were not made functional after the May 9 incidents but they are already working. He said currently 17 "standing courts" are working across the country where 102 miscreants are facing trial.
He said the civil courts handed over the suspects of May 9 to military after reviewing evidence against them. He said the suspects facing trial in military courts had rights to appeal in high courts and Supreme Court.
May 9 Perpetrators Must Be Brought to Justice
Maj Gen Ahmed Sharif emphasised that all facilitators and planners must be exposed and brought to justice to avoid such incidents in future.
Responding to a question, he termed allegations that the May 9 incident was conspired by the army and agencies "shameless". He called for curbing the internal security threats otherwise they will pave way for external threats.