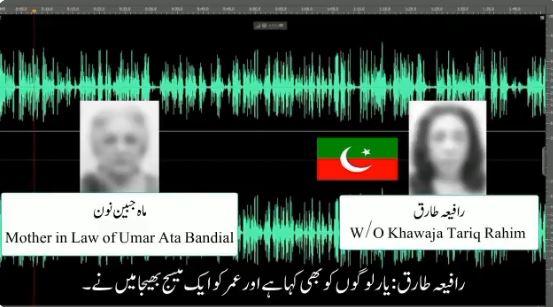 ISLAMABAD – A new audio recording has hit the internet amid leaks saga, purportedly featuring the mother-in-law of Chief Justice of Pakistan (CJP) Umar Ata Bandial, and wife of PTI lawyer Khawaja Tariq Rahim where the duo could be heard talking about the legal proceedings amid political quagmire.
The audio clip, which made the rounds on social media, started with greetings between the two as they exchanged concerns on early elections, their support for the country's top judge and their dislike of the ruling alliance.
A voice said to be of CJP's mother-in-law can be heard backing Umar Ata Bandial assuring him to strengthen him amidst the standoff like situation between the judiciary and civil government.
"I have been praying for Umar Ata Bandial since last night…I cannot explain how much I have been praying," she said, to which, the second voice which is said to be of Rafia Tariq, said I have told people as well and sent a message to Mr. Bandial. The latter then mentioned PTI's Lahore rally which according to her was attended by hundreds of thousands.
You do not need to worry; the world is praying for you, and it will strengthen you, Rafia said.
Mahjabeen then prayed for the weakening of CJP's rivals of strengthening of his allies.
The wife of a PTI supporter then mentioned a group of people as traitors of the country. Look at the way they are doing it.
Mahjabeen responded positively, then lamented those who are now questioning his (Umar) authority. Why has suo motu been taken, she can be heard saying. On that, the second voice said 'That's his right'.
As the clip progressed, Rafia mentioned polls, saying elections see if they don't happen then assume there will be something different, hinting at a military takeover. The duo disagreed over the imposition of martial law before the audio culminated.
The latest audio referring to the country's top judge and his contentious action sparked new debate while it prompted reactions from PTI and PML-N.
Maryam Nawaz, in a tweet, said "As decisions are made not on the basis of constitution and law but on the likes and dislikes of wife/mother-in-laws, there will be chaos and there will be no place for prosperity. Calling on CJP, she said 'This is Pakistan's judiciary, not Joyland!
Prime Minister's aide Ata Tarar said that he is sure about the deep conspiracy after hearing the audio clip. Constitution and laws were twisted for the sake of families. The families of Chief Sahib and two colleagues are trying to bring Imran Niazi to power by holding early elections along with attending [political] rallies, he said.
Meanwhile, PTI leader Fawad Chaudhry lamented no action from judiciary over disastrous series of audio leaks, saying phone calls of the PM Office and PM House were released in the past.