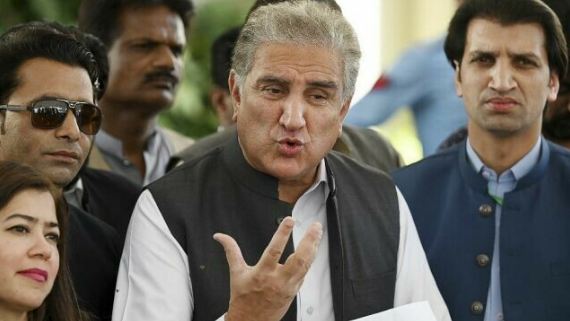 RAWALPINDI(a1tv news)Pakistan Tehreek-i-Insaf's vice-chairman Shah Mahmood Qureshi, who was imprisoned in connection with the May 9 violent rallies, has been released from Adiala jail.
The former foreign minister was released on the order of the court, according to jail officials.
Addressing a press conference following his release, the PTI leader said he is to meet his party chief Imran Khan tomorrow.
Earlier today, Lahore High Court (LHC) ordered the immediate release of PTI leader Shah Mahmood Qureshi, who was put in detention following the May 9 protests
The Rawalpindi bench of the high court issued the verdict, declaring a notification issued by the city's deputy commissioner for PTI stalwart's detention under 3 MPO. It also stopped the authorities from arresting the former foreign minister under this section.
On May 23, the vice-chairman of PTI was re-arrested soon after being released from the Adiala Jail. The PTI on its Twitter handle said Qureshi was arrested after he refused to leave the party.
Qureshi was among the top PTI leaders arrested from Islamabad within 24 hours of the violent protests that had erupted on May 9 following the arrest of former prime minister Imran Khan in the Al-Qadir Trust case.
He was taken into custody in the early hours of May 11 after the police raided Gilgit-Baltistan House in Islamabad under Section 3 (3MPO).
Last week, the party's top deserters visited Shah Mahmood Qureshi in Adiala jail in an effort to persuade him to change his loyalty, according to reports.
Qureshi was met in prison by a group of PTI defectors, including party heavyweights Fawad Chaudhry, Imran Ismail, Mahmood Moulvi, and Aamir Kiani, who attempted to persuade him to break up with the Imran Khan.