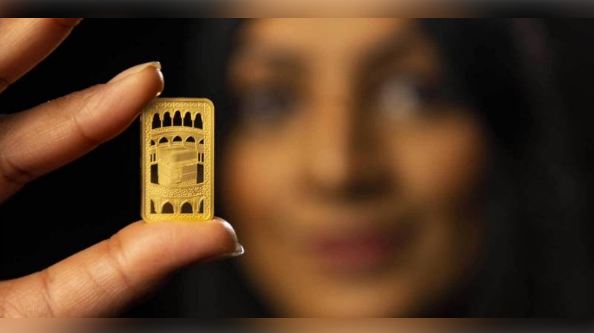 LONDON(a1tv news) The Royal Mint, the United Kingdom's oldest company and the official maker of British coins, has launched a gold minted bullion bar for the Muslim community depicting the Kaaba, the holiest site for millions of Muslims.
Created in consultation with the Muslim Council of Wales, and exclusively designed by Emma Noble, the 20g minted Kaaba gold bar is released ahead of one of the holiest months in the Islamic calendar, Ramadan.
To mark the launch of the Kaaba gold bar, in February the Royal Mint attended three events held by Islamic Relief – in London, Manchester and Glasgow – to raise funds to support those directly impacted by the earthquakes in Türkiye and Syria, donating a Kaaba gold bar at each event for auction. The auctions raised more than £9,000 in additional donations for the relief fund.
Andrew Dickey, Director of Precious Metals at the Royal Mint, said: "We are delighted that for the first time, the distinctive cube structure of the Kaaba is being represented on a 20g gold bullion minted bar by The Royal Mint. Drawing on more than 1,100 years of minting expertise, we have applied our expert craftsmanship to create a beautiful representation of the Kaaba, the holiest place on earth for many Muslims. This Kaaba gold bar, contained within beautiful Islamic-themed protective packaging, makes a special gift".
"Ramadan is a time of giving, so we're proud to have supported Islamic Relief, a leading Muslim charity, through the donation of Kaaba gold bars at three UK events, raising upwards of £9,000."
Abdul-Azim Ahmed from The Muslim Council of Wales, who collaborated with The Royal Mint on the product launch, said: "It's been wonderful to work with The Royal Mint to introduce this special gold bullion bar depicting the Kaaba. Covered by the kiswah, a black cloth with gold decoration, the building's outline is unmistakable, and it has now been minted in gold, the precious metal prized for millennia.
"The design will undoubtedly be popular with the Muslim community and exemplifies the craftsmanship of the Royal Mint. It's been a fascinating process and I hope people across the world will enjoy this bar.
Speaking about The Royal Mint supporting its fundraising, Tufail Hussain, Director at Islamic Relief, said: "We're honoured to be partnered with the historic Royal Mint and so pleased to be able to hold these events across the country. These Kaaba gold bars, donated by The Royal Mint will help us to raise significant funds for the Türkiye and Syria appeal."
The 20g minted gold bar depicting the Kaaba is available at the price of £1,156 ($1,393).