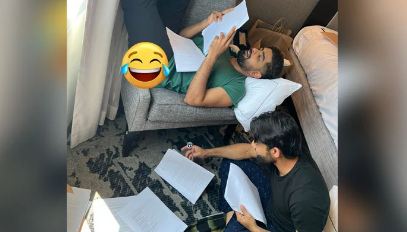 An adorable photo of Pakistan skipper and world's top one-day international (ODI) batter Babar Azam and Mohammad Rizwan is making rounds on social media, a day before the duo has to join the Harvard Business School's executive education programme on the Business of Entertainment, Media, and Sports (BEMS).
The skipper shared a photo of him along with Rizwan on his Twitter handle on Tuesday, with the caption: "Ye kya ho raha hai? [What is happening?]"
In the photo, the duo can be seen studying with all their heart and soul, with papers lying on the floor. The snap shows Babar is reading a paper while lying on a sofa, putting his legs up against a wall; while Rizwan is reading sitting on the floor in a room.
Reacting to the post, a netizen wrote, "Moj masti & preparation!!"
https://twitter.com/babarazam258/status/1663574910759845888
Another internet user asked them to win "first position".
The duo will become the first two crickets to join the prestigious school. They will participate in the programme from May 31 to June 3 at the school's campus in Boston, Massachusetts.
Both cricketers will also engage with various communities in the US after the programme till June 13.
Previously, this course has also been taken by other sportspersons including footballers Kaka, Edwin van der Sar, Gerard Pique, Oliver Kahn, NFL's Brandon Marshall, NBA's Chris Bosh and Dwyane Wade and Major League Baseball's Alex Rodriguez.
"It is a huge honour to represent Pakistan on such a prestigious global stage. We are going to the BEMS programme at Harvard to learn from the best of the best in the world — both in terms of faculty and programme fellows — and at the same time to share our journey and learnings with everyone. I am certain that this will be an exciting journey, and I look forward to sharing our learning and experiences with the next superstars of the cricket world," Rizwan had said a few days back.
Meanwhile, Babar also echoed similar thoughts.
"I am a lifelong learner and I have had detailed chats about this programme with Prof. Elberse and [Talha] Rehmani. My inspiration for joining this world-class programme at Harvard is to connect, explore, listen, learn, grow, and give back to the community worldwide. I am sure there are scores of things to learn from the amazing athletes and top business executives from the entertainment, media, and sports industries who are coming from corners of the world."