DUBAI (a1tv news)UAE princess Sheikha Mahra, a known internet celebrity, who was once rumoured to have proposed to a son of former Pakistani prime minister Imran Khan, has tied the knot with Emirati Sheikh Mana Al Maktoum in a private ceremony in Dubai.
Last year, unverified social media reports set the rumour mill spinning as Princess Mahra's name was linked with one of the sons of a Pakistani populist leader. Social media platforms were all abuzz with reports that UAE Royal Family has asked Sulaiman's mother Jemima Khan for her son's hand in marriage, with hilarious claims about dowry sparked frenzy online.
The rumours were settled down shortly but the misleading content is still available on the internet and the matter grabbed netizens' attention after Sheikha Mahra gets hitched of late.
Congratulations are in order for the daughter of Sheikh Rashid Al Maktoum who announced her marriage in a social media post. The royal family members shared a picture and confirmed that they signed the marriage contract.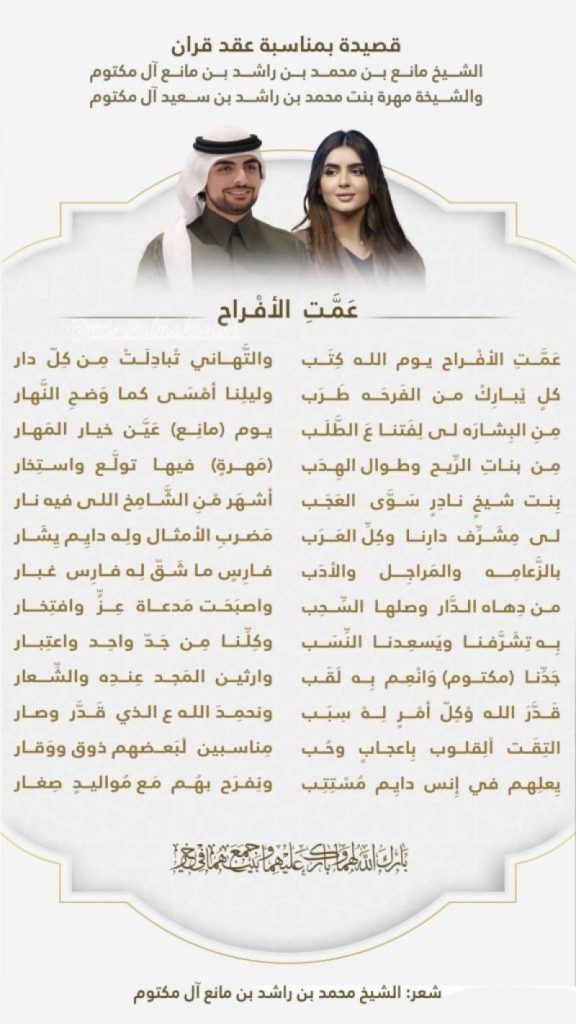 On the occasion, the groom's father Sheikh Mohammed bin Rashid Bin Mana Al Maktoum, Vice President and Prime Minister of the United Arab Emirates, and Ruler of Dubai, penned an ode for the newlyweds which reads: "There were celebrations on God's Day, books were written, and greetings appeared from every home. Everyone is blessed with delight, and our night turned bright as day, thanks to the wonderful news on Mana day".
It further reads "It's with these graceful expressions; Sheikh Mohammed bin Rashid Bin Mana Al Maktoum announced the news of the Katb Ketab of his son, Sheikh Mana Bin Mohammed Al Maktoum, to Her Highness Sheikha Mahra Bint Mohammed Bin Rashid Al Maktoum."
Meanwhile, no pictures were shared from the event which were kept under wraps due to the privacy of the Royal family while further details about the wedding function or reception were kept secret, till the filing of this story.